Richard Bribiescas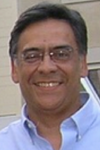 Prof & Chr Anthropology; Chn Anthropology
Address:
10 Sachem St, New Haven, CT 06511-3707
203-432-3671, 203-432-5938
Richard Bribiescas is Professor and Chair of the Department of Anthropology at Yale University and is the Director for the Center for Reproductive Ecology, a research initiative sponsored by the Yale Institute for Biospheric Studies Research Center. Professor Bribiescas is also the Director for the Reproductive Ecology Laboratory within the Department of Anthropology. His major research interests include: biological anthropology, human evolutionary biology, life history theory, reproductive ecology, comparative biology, and aging.  His present research involves a collaborative project on the health and life history of the Shuar people living the Ecuadorian Amazon.